Sport is an important part of the culture in Australia, with a long history in the country dating back to the pre-colonial period.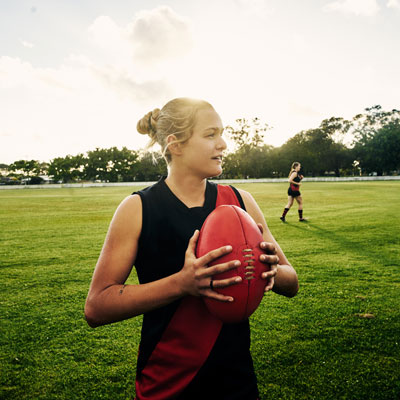 Australia's mild winters mean that in most parts of Australia, regular outdoor sports can be played all year, and indeed more vigorous sports are more comfortably played in winter.
Did you know that there 5.2 million Australians suffer sports-related injuries each year?
The most common sport/leisure activities related to injuries within each age group
Sport/Leisure Activity
0-14 yrs
old
15-34 yrs
old
35-54 yrs
old
55+ yrs
old
Acrobatic sports
✓
Basketball
✓
✓
Cricket
✓
✓
Cycling
✓
✓
✓
✓
Equestrian sports
✓
✓
✓
✓
Australian Rules Football
✓
✓
Rugby League & Union
✓
✓
✓
Soccer
✓
✓
✓
✓
Individual athletic activities
✓
Motorcycle Inc. dirt bike racing & jumping
✓
✓
✓
✓
Netball
✓
Racquet sports
✓
✓
Skating & rollerblading
✓
✓
Surfing & boogie boarding
✓
✓
✓
Swimming
✓
✓
Target & precision sports
✓
Sports injury rates peak during the winter months of May, June and July, which is not surprising because cold muscles, tendons and ligaments increase your risk of being hurt.
Suggestions for Sports Training in Cold Conditions:
Wear appropriate warm clothing.
Multiple layers of clothing trap more body heat than one bulky item.
Devote more time to warming up and stretching before exercising.
Keep up your fluid intake as the cold weather can still cause fluid loss.
Wear sun protection, particularly if you're at the snow.
Don't push yourself too far or too fast, particularly if you're a beginner.